Art is subjective, but nobody could possibly say it's anything but magnificent when it comes to this colossal sculpture. And if they did have anything negative to say, we would be inclined to think they are just jealous of the tremendous talent it takes to create something this spectacular. One of the most unique aspects of the sculpture is that its chest' opens up, revealing a fern-covered tunnel that you can walkthrough. It truly is a sight that will leave you in awe.
Created by Daniel Popper, an artist from Cape Town, South Africa, this insane sculpture stands over 30 feet tall. The sculpture is one of his newest works, titled "Thrive." It will be a permanent public installation in Florida at Society Las Olas.
Daniel has been creating impressive sculptures like 'Thrive' for many years. Including larger-than-life art installations for festivals such as the Modem festival in Croatia, the Artwithme festival in Tulum in Mexico, and the Electric Daisy Carnival in Las Vegas.[1][2]
Enter the fern-covered tunnel
The globe-trotting artist is no stranger when it comes to creating art that stuns. The sculpture he created in Florida is no different. As briefly mentioned before, the sculpture is of a woman, who appears to be opening her chest.[1]
You are able to walk under the 14-ton fiberglass reinforced concrete (GFRC) installation, through a beautiful fern-covered tunnel. All the plants are live.
It is quite incredible to see how this beautiful fern-covered tunnel was created.
Daniels other incredible works of art
Thrive, the fern-covered tunnel, is not his first massive art installation. have a look at some of Daniels other incredible works of art.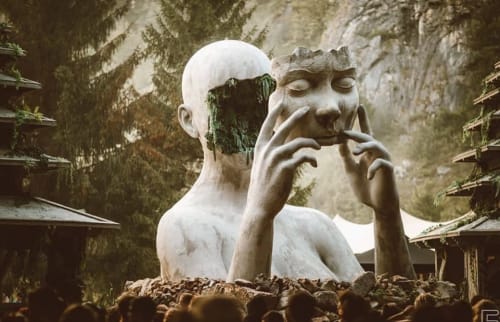 An 8-meter tall statue created for the swamp stage at Modem festival in Croatia in 2019. Much like 'Thrive' with its fern-covered tunnel, this piece has a face with plants growing inside it.[2]
You can tell Daniel likes to incorporate plants when building his colossal-sized structures! This is a 7-meter statue of a female goddess blowing kisses out onto Daisy Lane as festival-goers entered the venue for a festival in las Vegas. The base of the structure had a glass floor, enabling attendees to enjoy the terrarium below, on a glass floor that also acted as the base for the piece.[2]
If you would like to see more of Daniel's work check him out on his website, Instagram and Facebook.
Keep Reading: Talented Photographer Captures Magical Forest Scenes By Looking Upward
Sources
"Thrive" Is A 14-Ton Sculpture By Daniel Popper That Features Live Plants And An Archway You Can Walk Through. DeMilked.
Thrive – Daniel Popper