You'd never expect a car developed to Hitler's specifications in Nazi Germany to eventually become an icon of the hippy counterculture, but that's exactly what happened to the Volkswagen Beetle. The name Volkswagen is derived from "folks wagon," in keeping with an official slogan that deemed it the "People's Car." The Beetle was designed to provide an affordable way for all Germans to travel, complete with simple mechanics and easily replaceable parts.
Once the war was over, Volkswagen managed to open a few factories in Britain and America. In 1959, an ad campaign still considered to be among the best in history urged car buyers to "Think Small." The idea—and the Beetle's unusual design—quickly caught on. The hippies were able to turn a machine built for combat into a vision of peace and love. The Beetle made it easy for young people to take long road trips, but its small size made it hard for larger groups to travel together.
By the 1970s, a few hippies with deeper than average pockets attempted to build a hybrid: a car that kept the Beetle's design but provided the comfort and space of a Volkswagen Microbus. The result was the "Super Bugger," a hilarious Bug-turned-RV creation that sold for roughly $6,000 in 1975. Also known as the Lil' Bugger or MiniHome, the original Super Bugger required a Microbus engine to be installed under the Beetle's hood to sustain highway speeds of 50-55 mph. Inside, the car featured a pull-out bed tucked into a space above the cab, along with faux wood paneling and a ton of shag carpet. It also housed a stove, sink, ice box, water tank, cupboards, drawers, and a storage closet. Most contemporary Super Bugger owners have chosen to ditch the bed in favor of a simple outdoor tent.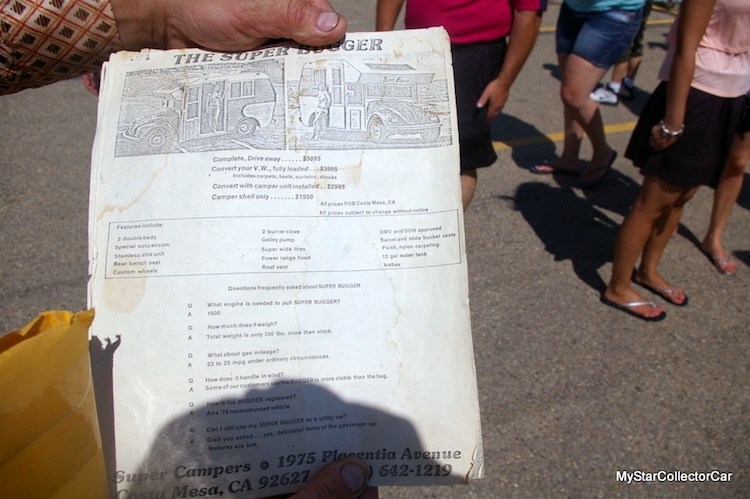 Only a handful of people tried to make Super Buggers at first, but those who were successful in creating them still take great pride in their cars. Some owners have kept theirs in mint condition, while others have upgraded theirs to include modern amenities. One couple brought their turquoise Super Bugger to an auto show in 2016, along with a 1977 issue of Mechanix Illustrated that contained a cover story on Super Buggers. They might not be the world's best campers, though the couple says they do make for great ice breakers and are sure to attract curious Volkswagen and RV enthusiasts everywhere.
Very neat!
Dying to get your hands on a Super Bugger for your own summertime adventures? Try checking eBay and Craigslist. Listings appear on these sites every now and then but tend to sell fast. If you're handy, you can order DIY plans from Robert Q. Riley and build your own version for roughly $2,000 plus the cost of a Volkswagen Beetle.
"Driving a MiniHome is an addictive experience," says Riley. "Acceleration and cornering are much like the original VW. But one does have to negotiate a few trial turns in order to gain confidence in its roll stability. MiniHome is much more stable than it looks. After a few minutes behind the wheel, the pleasure of driving such a small vehicle, in comparison to other RVs, begins to take effect."
By S.A. Rogers for Dornob
From our Founders
Want to make cooking at home waaaaay faster and easier?
Set aside your slow cooker and start using an instant pot! It's literally the same thing… Except instant pots cook your food in about ¼ of the time!
Most recipes are done and ready in 20-40 minutes…
And they come out delicious!!!!
We have only 500 FREE copies of the Keto Instant Pot Cookbook