A viral post said the local police in Standing Rock reservation was using the Facebook check-in feature to track anti-Dakota Access pipeline protesters.
Over one million people have "checked in" at Standing Rock Indian Reservation in North Dakota on Facebook Monday in response to a viral post calling for help to protect activists in North Dakota protesting against the Dakota Access oil pipeline from police surveillance through the Facebook feature.
"The Morton County Sheriff's Department has been using Facebook check-ins to find out who is at Standing Rock in order to target them in attempts to disrupt the prayer camps," the text of the viral Facebook post said Monday morning.
"SO Water Protectors are calling on EVERYONE to check-in at Standing Rock, ND to overwhelm and confuse them. This is concrete action that can protect people putting their bodies and well-beings on the line that we can do without leaving our homes."
It was not clear who wrote the post and call for action, however, it managed to attract hundreds of thousands of people. As of Monday afternoon, more than 870,000 people had checked in, skyrocketing from just 140,000 before the post went viral.
The action against the US$3.8 billion pipeline has attracted more than 300 Native American tribes from across the United States in a show of unity that is being called historic. They say the project will damage burial sites considered sacred to the Standing Rock Sioux tribe and pollute the area's drinking water.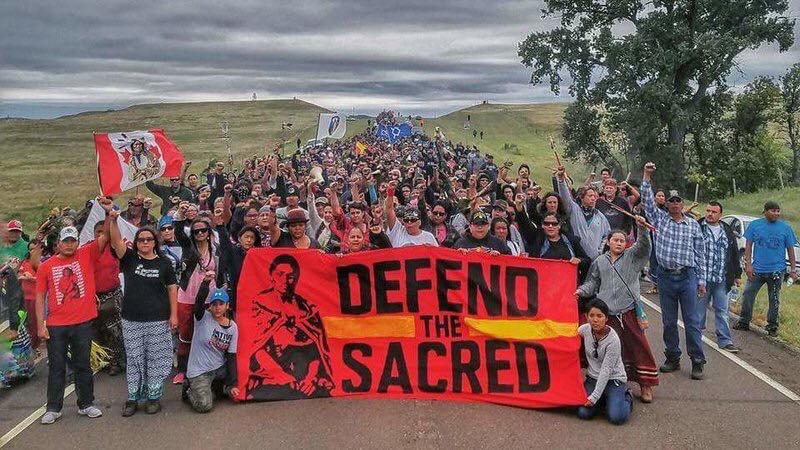 Authorities have been struggling to combat the protests and have taken a more aggressive approach against the protesters. Last week 142 protesters were arrested over the weekend in a series of clashes with police in ongoing demonstrations at the contested construction site in North Dakota. Police also used tear gas against demonstrators.
Mekasi Camp Horinek, a protest leader from Bold Oklahoma, an environmental advocacy group, said he did not know who started the online movement, but he welcomed it. "It is a lot of people showing their support for Standing Rock," Horinek said on Monday by telephone from North Dakota. "They can't be with us here physically, but they are with us in spirit and prayer."
A spokesperson for the Morton County sheriff's department told the British newspaper the Guardian in a statement that it was "not monitoring Facebook check-ins for the protest camp or any location for that matter. These rumors/claims are completely false."
However, the action has evolved into a show of solidarity for the people protesting the pipeline as many popular political figures and celebrities have come out in support of the Native American nations, bringing their struggle to mainstream media in the country.
"It's definitely better than just sticking your head in the sand. And it does often lead to 'real' activism when people who don't know anything about organizing or activism connect with people who do," Lindsey Jones, from Wethersfield, Connecticut, one of the thousands who remotely checked in on Facebook at the protest camp, told the newspaper.
Last month more than 1,200 archaeologists, anthropologists, curators, museum officials and academics signed a letter in support of the protests against the Dakota Access pipeline and calling on the U.S. government and its agencies to put an end to the construction of the oil facility.
Also earlier this month several Hollywood stars, including Mark Ruffalo and Susan Sarandon, joined more than 800 protesters gathered in Los Angeles Sunday to show support for activists demonstrating against the construction of the Dakota Access pipeline on Native American lands in North Dakota.
---
Via TelesurTV
From our Founders
Want to make cooking at home waaaaay faster and easier?
Set aside your slow cooker and start using an instant pot! It's literally the same thing… Except instant pots cook your food in about ¼ of the time!
Most recipes are done and ready in 20-40 minutes…
And they come out delicious!!!!
We have only 500 FREE copies of the Keto Instant Pot Cookbook