These Gorgeous Libra Constellation Necklaces Are Handcrafted Masterpieces
By Raven Fon
Libras are known for being indecisive, but there's no question here- these Libra Constellation necklaces are out of this world!
Libras are born between September 23 and October 22, and they possess some pretty great qualities. Among other things, they are diplomatic, peaceful, and caring, but can also be indecisive and maybe a bit too laid back at times. One thing is for sure- Libras like being Libras.
What better way to show off your Libra-ness than with these Libra Constellation necklaces from MoonStarsJewelry?
Jackie Taylor is the designer and creator behind MoonStarsJewelry, and says this about her product(s):
"This constellation Libra necklace sparkles with 8 tiny cubic zirconia floating in resin with midnight blue stardust sparkles. The 8 stones represent the Constellation Libra. All contained in a cupped dome of sterling silver with an antique patina that will never need polishing. It has a 14k gold filled bail and a matching sterling silver chain."
Jackie says she constructs the pieces from a sheet of silver, cuts the circle, domes it, and solders all of the elements. Each necklace is original and unique, with no prefabricated parts. She makes the chain to length, and her handmade necklaces ship to anywhere in the world.
If you're not a Libra, or would prefer another constellation, you're in luck! MoonStarsJewelry has all 12 signs available, and a special necklace featuring the Pleiades. Prices range from $72.00 – $298.00.
The necklace features 8 cubic zirconia floating in a blue stardust resin.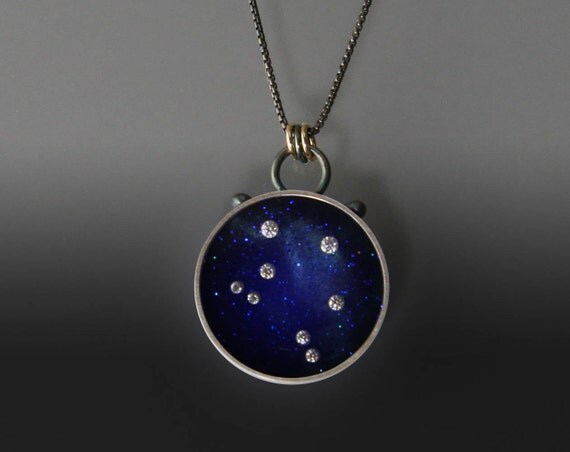 The other side of the necklace is a sterling silver dome with a tiny silver star, and is signed and numbered by the designer, Jackie Taylor.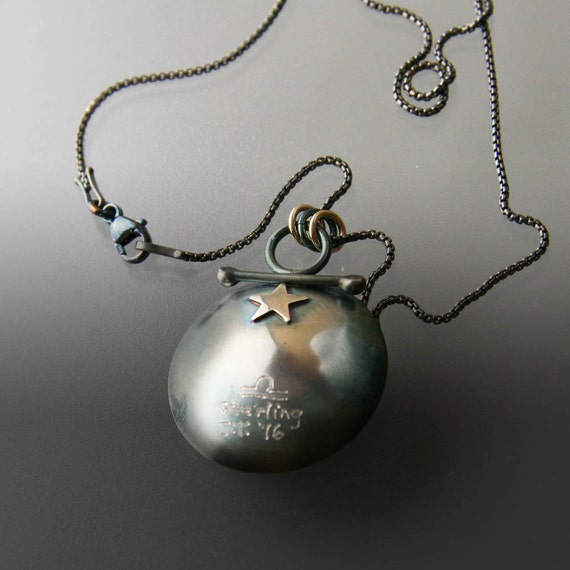 The necklace pendant measures 1 3/8″ tall by 1″ across.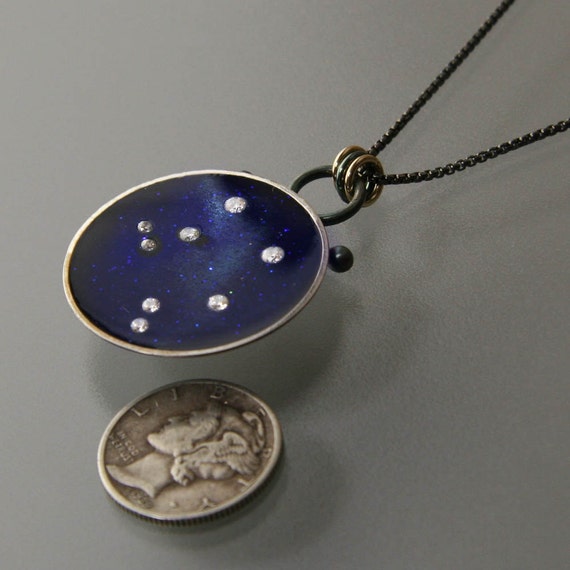 They beautifully capture and display the constellation of Libra, making it a truly a stunning addition to any Libra's collection.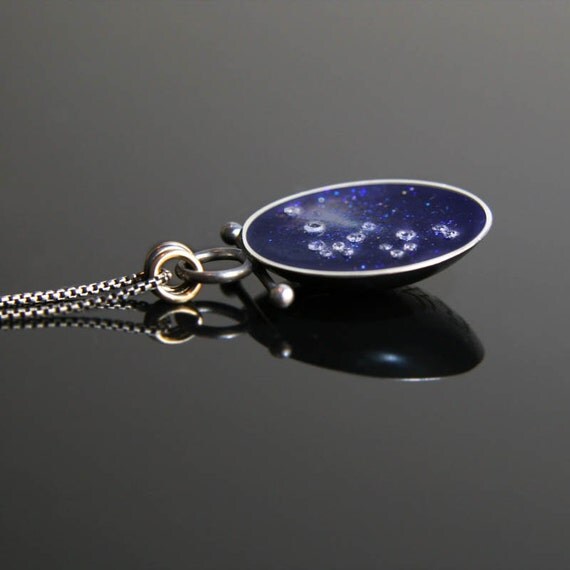 They even arrive in a special decorative package!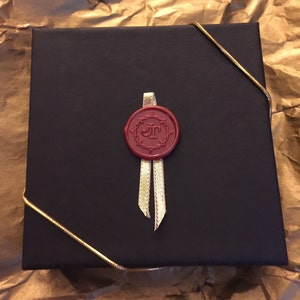 For more very cool and very stylish original jewelry, visit the MoonStarsJewelry Etsy shop!