Purchasing a throw this size could cost up to $300. Learn how easy and time-efficient it is to make one of these yourself, using just your arms, in under an hour.
As the weather turns chilly and your family craves snuggly accessories and cozy home decor, switch your creative efforts into making a DIY chunky, wool blanket. Arm knitting is an easy and popular approach to making throws and home accessories, and inspiration has been flooding my mind ever since I worked on this gallery that honors the art of finger knitting and arm knitting. Most of the artists featured promised an end project that was "easy!" and "great for beginners!" and "no knitting skills required!" and obviously I was determined to find out if that was true.
What kind of yarn should you buy?
Whether acrylic or 100% wool, makers will agree that the thicker the fibers, the better the results if you're arm-knitting. Compare your extremities to conventional knitting needles – your weave will only be as tight as the needles will allow. Thinner needles, tighter weave. Thicker needles, looser weave. Example: If you were to arm knit with ordinary yarn, the stitches would be very loose, but if you choose a thick fiber, the diameter of the material will fill in the weave more substantially and appear more voluminous. The heavy-weight merino wool I bought from Wonddecor is hand-dyed right in the USA to match dozens of colors, and the resulting blanket made from the material is very thick, very soft (like the sweater of your dreams).
And how much will you need?
The general consensus is that 6-8 pounds of material will create a nice blanket. If you're arm knitting a scarf, you'll need less. King size? You'll want more.
I chose 6.6 pounds of a goldenrod shade, and I actually couldn't believe how much it was when it arrived safely in the mail. That's a lot of merino wool, people! So silky soft.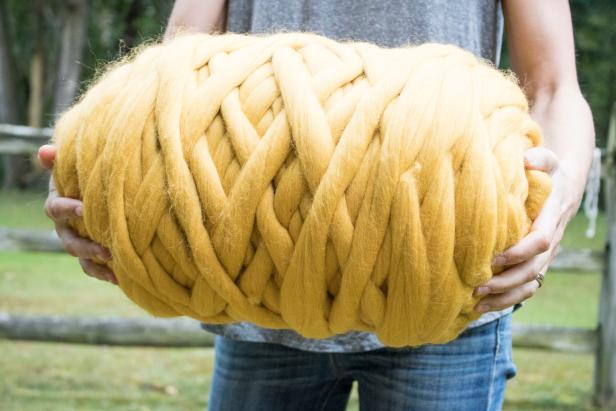 As arm knitting expert Amanda from Simply Maggie promises, can it really be done in less than an hour?
Yes! Even for a first-timer like me. Here's a video tutorial above. I'm happy to tell you now that this is a great DIY project for anyone looking to learn how to arm knit something beautiful and cozy.
I know now that this is a good project for a cool day. Hot weather is not wool-arm-knitting weather, and the more comfortable you can make yourself for an hour, the easier it will be to complete this project in a time-efficient way.
Via HGTV